Under the Bangladesh government's scholarship program, Government Medical and Dental Colleges 2018-19 admissions for International Students are open.
The Directorate General of Health Services of the Ministry of Health and Family Welfare of Bangladesh has announced the admission of foreign students in Government Medical and Dental Colleges for the academic year 2018-19. This year total 216 seats are reserved for the foreign students of which 107 seats are allocated for SAARC countries and 109 seats are allocated for non-SAARC countries, under Bangladesh government's scholarship program. Country-wise allocation of seats is as follows: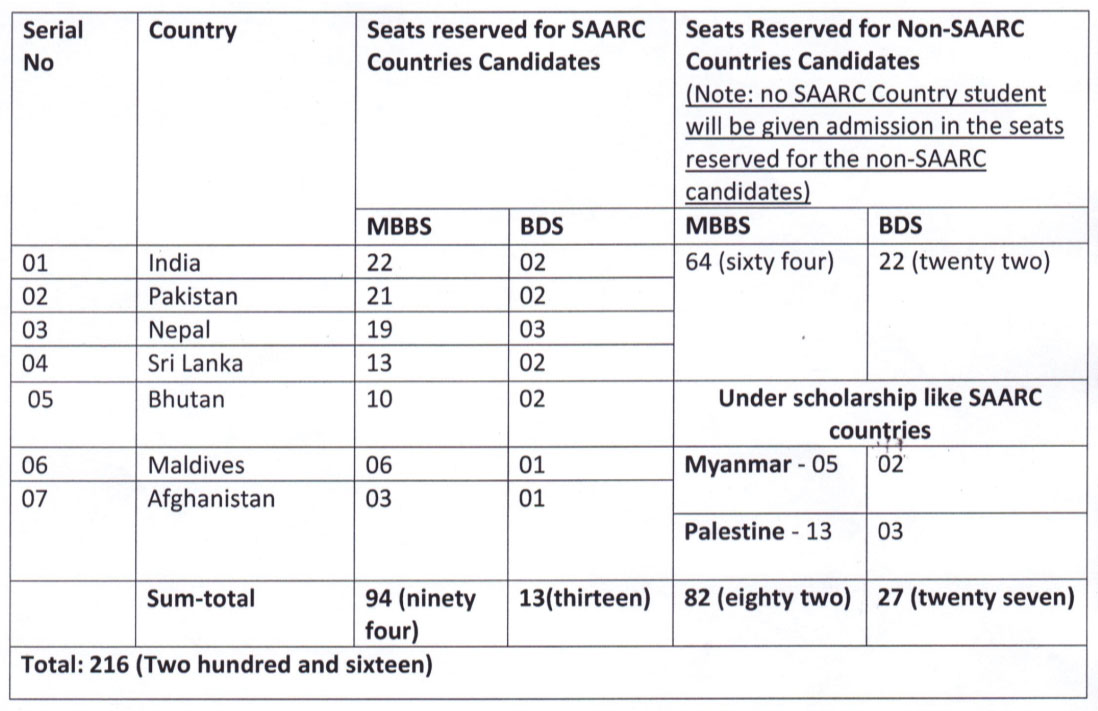 The Ministry of Foreign Affairs formulates and executes the foreign policy of the Government of Bangladesh. The core guidance of policy formulation comes from the relevant section of the Constitution of Bangladesh In developing the external policy of the Republic, the Ministry draws from the laws of the land, acts of the Parliament, international treaties that Bangladesh is a State party to, and other customary sources. In discharging its functions, the Ministry follows the provisions of the Rules of Business of the Government of Bangladesh.
The Foreign Ministry represents the State to foreign governments and international organizations through its 72 missions across the globe. The Ministry's goals is to develop and maintain friendly relations with other States and foster cooperation with developed, developing and least developed countries, and various regional, sub-regional, political and economic groups. The Ministry pursues Bangladesh's external economic and trade interests, promotes its culture abroad, and disseminates information to foreign countries. It safeguards the legal rights and promotes interests of its citizens and other legal entities in foreign countries. The Ministry discharges its diverse duties through its headquarters in Dhaka and through its network of Missions aboard. The work of the Ministry is conducted by a number of wings. These divisions gather, analyze and process information, set priorities and draw up options according to the allocation of their individual areas and responsibilities.
Location:
Bangladesh
Benefits
Opportunity to study in Bangladesh
Opportunity to study in Public/Private Medical and Dental Colleges with Scholarships
Check the official website for detail benefits.
Eligibilities
Please go through the apply link for detail eligibilities.
Eligible Regions:
SAARC Countries: India, Pakistan, Nepal, Sri Lanka, Bhutan, Maldives, Afganistan. Under Scholarship Like SAARC Countries: Myanmar, Palestine. Non-SAARC Countries: Open for All.
Disclaimer: Youth Opportunities spreads opportunities for your convenience and ease based on available information, and thus, does not take any responsibility of unintended alternative or inaccurate information. As this is not the official page, we recommend you to visit the official website of opportunity provider for complete information. For organizations, this opportunity is shared with sole purpose of promoting "Access to Information" for all and should not be associated with any other purposes.